PRESCRIPTION ABUSE PREVENTION
Know Your Dose
Rx Drug Issue in Montana
"…there is mounting evidence that patients on chronic opiates usually have a poorer quality of life and life expectancy, when compared to those treated by other means." – Dr. Marc Mentel, D.O., Associate Program Director for Osteopathic Curriculum at the Family Medicine Residency of Western Montana and MMA Prescription Drug Abuse Reduction Faculty.
The Prescription Drug Abuse & Diversion Issue
Prescription drug abuse and diversion is a growing epidemic – it affects everyone, and the statistics are staggering. Montana's prescription drug abuse is reportedly worse than the national average. The consequences impact our families and friends, the communities we live in, and our workplaces. The Montana Medical Association and our partners are committed to providing resources and education to help fight this epidemic in our state.
Chronic pain effects more than 100 million Americans, more than Diabetes, Heart Disease and Cancer combined
Between 1998 and 2008, there was a 400 percent increase in substance abuse treatment admissions for opioid prescription pain relievers http://www.fda.gov/ForConsumers/ConsumerUpdates/ucm220112.htm
In 2012, there were 41,502 drug overdose deaths in the United States, which surpasses the number of people who died in automobile/highway related accidents and of which 53%, or 22,114, were due to prescription pharmaceuticals
From 1999 to 2013, the amount of prescription painkillers prescribed and sold in the U.S. has nearly QUADRUPLED
Across the country, 50 Americans die each day from prescription drug overdose
Sobering news: In 2013, narcotic analgesics were found to be the cause of over 200 unattended deaths in Montana alone. Take a look: (graphic courtesy of Montana Department of Justice, 2013 Annual Toxicology Report)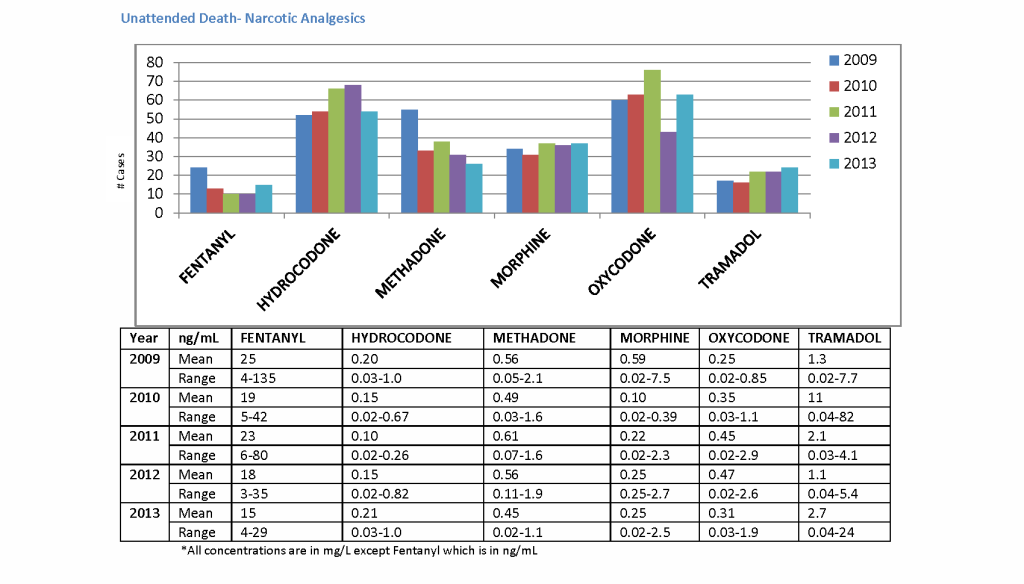 Prescription Drug Abuse in Montana
Prescription drug abuse contributed to the death of more than 300 Montanans from 2011-2013, making prescription drug abuse 15 times more deadly than meth, heroine and cocaine combined Office of Epidemiology and Scientific Support, Public Health and Safety Division, MT DPHHS, 2016
Montana kids report the third-highest rate of prescription drug abuse in the country, while 70% of abusers get their drugs from family members.
Almost one in 10 — 9.6 percent — of Montana teens aged 12 to 17 have reported abusing prescription pain relievers. That is the third-highest rate for teens in the country. 2007 National Survey on Drug Use and Health
More than 18 percent of Montana's middle school and high school students report abusing prescription drugs like Vicodin and OxyContin. By the time they reach the twelfth-grade, almost 23 percent have abused these drugs. 2011 Montana Youth Risk Behavior Survey
Nearly 78 percent of kids have had conversations with their parents about the dangers of using beer and marijuana. Only 24 percent have had those conversations about prescription drugs. 2008 Partnership Attitude Tracking Survey: Teens
The rate of Neonatal abstinence syndrome (NAS) in Montana newborns increased from 0.8 per 1,000 live births in 2000 to 9.0 per 1,000 (95% confidence interval 7.3% – 10.9%) in 2013, a tenfold increase according to the Neonatal Abstinence Syndrome in Montana Newborns 2000-2013.
Sobering news: Most abusers of prescription drugs get their drugs from friends and relatives – and they get them for free. Take a look: (graphic courtesy of Montana Department of Justice)