Opioid Overdose Rescue and Response: Naloxone
Remember: An overdose is a medical emergency – call 911 immediately
Naloxone is a medication used to REVERSE the effects of opioids, including overdose.  Naloxone is an opioid antagonist, which means it binds to the opioid receptor and blocks the opioid.  This reverses the effects of the opioid on that receptor.  When this blocks or reverses the opioid, breathing is restored.  This also may cause abrupt opioid withdrawal.
Naloxone is supplied as a single dose nasal inhaler, a single dose auto-injector or in a kit that may require some items be put together before use.  Be familiar with the option available to you.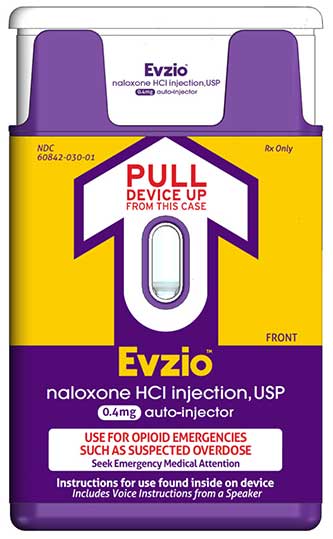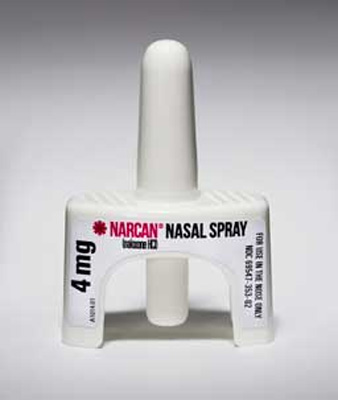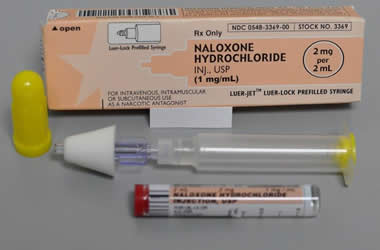 Naloxone should be used when an overdose is identified or suspected.
Signs of an overdose:
No response when you yell the person's name or rub the middle of their chest with your knuckles.
Slow breathing or no breathing (less than 1 breath every 5 seconds)
Pale or clammy face
Blue or gray lips, fingernails or skin
Slow, erratic or no pulse
Choking or gurgling noises
Recognizing an overdose:
Check for unresponsiveness, shaking won't wake the person
Listen for snoring or choking, slow breathing or no breathing
Look for blue or gray lips or fingernails
Touch sweaty or clammy skin
If the person is unresponsive or showing signs of overdose:
Give Naloxone
Then What?
Call 911!  Activate emergency medical services (EMS).  EMS should always be contacted if an opioid overdose is suspected.  If EMS has not been called before naloxone is administered, call directly after use.
Begin CPR if the person is unresponsive and not breathing.
Consider second naloxone dose.  If the person does not respond by waking up in 2-3 minutes, administer another dose of naloxone.  Continue CPR.
If the person is breathing but unresponsive, place the person on their side in the recovery position and watch them closely until EMS arrives.
If the person does respond, keep them calm, and be ready to give the second dose if the person becomes unresponsive again.
Naloxone is safe regardless of opioid use status.  Naloxone will have no effect on a person that does not have opioids in their body.
Naloxone may cause withdrawal symptoms including headache, nausea, vomiting, diarrhea, tremor, sweating, and changes to heart rate and blood pressure.  Withdrawal symptoms can be uncomfortable but are not life-threatening.
Remember:
Naloxone is safe regardless of opioid use status.  If the person does not have an opioid in their body, naloxone will not have an action.
Naloxone is safe in pregnancy.
Naloxone should be used if an overdose is suspected and the person is not responsive or breathing slowly, irregularly or not at all.
Naloxone will cause withdrawal – expect it.
Naloxone is available by prescription from your doctor/provider.
Naloxone is also available from participating pharmacies by standing order.  This means that the pharmacist may dispense naloxone without a prescription from your doctor/provider.
The Montana DPHHS Opioid Overdose Recognition and Response Guide can be found here: http://dphhs.mt.gov/Portals/85/publichealth/documents/EMSTS/Opioids/Opiod%20Brochure%202017.pdf
Information for the public as well as prescribers can be found on the Montana DPHHS Opioid Overdose Prevention webpage. The webpage provides an overview of the opioid crisis in Montana along with the standing order, education about overdose recognition and response, and the CDC guidelines for prescribing opioids.
Check with your local pharmacy to see if they are participating in the Standing Order for Naloxone Program.
How to Get Help
If you are in need of immediate help, or experiencing thoughts of suicide, call 9-1-1. Prevention and early intervention is very important and can potentially prevent addiction or