PRESCRIPTION ABUSE PREVENTION
Know Your Dose
Rx Drug Issue in Montana
"…there is mounting evidence that patients on chronic opiates usually have a poorer quality of life and life expectancy, when compared to those treated by other means." – Dr. Marc Mentel, D.O., Associate Program Director for Osteopathic Curriculum at the Family Medicine Residency of Western Montana and MMA Prescription Drug Abuse Reduction Faculty.
The Prescription Drug Abuse & Diversion Issue
Prescription drug abuse and diversion is a growing epidemic – it affects everyone, and the statistics are staggering. Montana's prescription drug abuse is reportedly worse than the national average. The consequences impact our families and friends, the communities we live in, and our workplaces. The Montana Medical Association and our partners are committed to providing resources and education to help fight this epidemic in our state.
Chronic pain effects more than 100 million Americans, more than Diabetes, Heart Disease and Cancer combined
Between 1998 and 2008, there was a 400 percent increase in substance abuse treatment admissions for opioid prescription pain relievers http://www.fda.gov/ForConsumers/ConsumerUpdates/ucm220112.htm
In 2012, there were 41,502 drug overdose deaths in the United States, which surpasses the number of people who died in automobile/highway related accidents and of which 53%, or 22,114, were due to prescription pharmaceuticals
From 1999 to 2013, the amount of prescription painkillers prescribed and sold in the U.S. has nearly QUADRUPLED
Across the country, 50 Americans die each day from prescription drug overdose
Sobering news: In 2013, narcotic analgesics were found to be the cause of over 200 unattended deaths in Montana alone.  Take a look: (graphic courtesy of Montana Department of Justice, 2013 Annual Toxicology Report)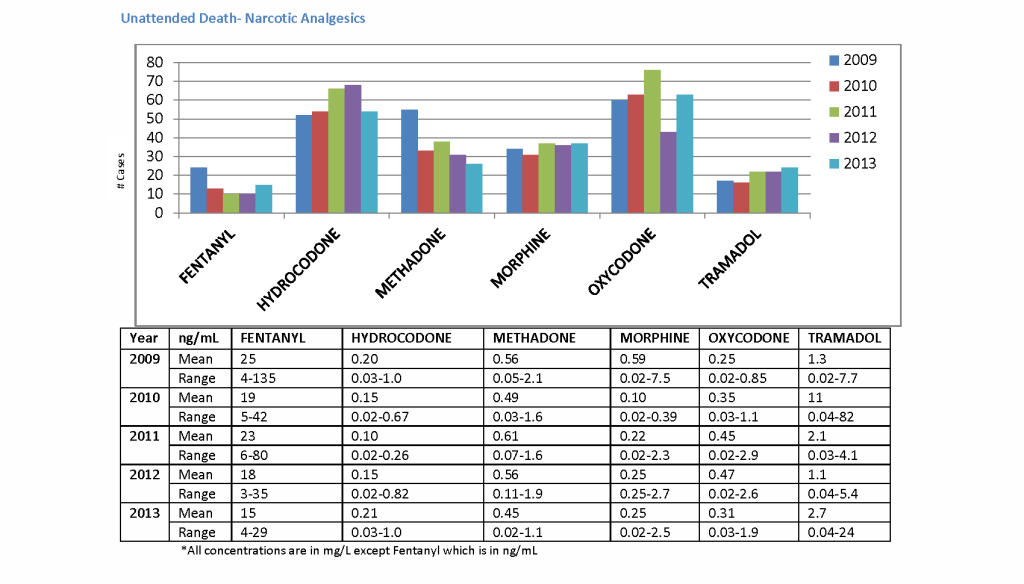 Prescription Drug Abuse in Montana
Prescription drug abuse contributed to the death of more than 300 Montanans from 2011-2013, making prescription drug abuse 15 times more deadly than meth, heroine and cocaine combined Office of Epidemiology and Scientific Support, Public Health and Safety Division, MT DPHHS, 2016
Montana kids report the third-highest rate of prescription drug abuse in the country, while 70% of abusers get their drugs from family members.
Almost one in 10 — 9.6 percent — of Montana teens aged 12 to 17 have reported abusing prescription pain relievers. That is the third-highest rate for teens in the country. 2007 National Survey on Drug Use and Health
More than 18 percent of Montana's middle school and high school students report abusing prescription drugs like Vicodin and OxyContin. By the time they reach the twelfth-grade, almost 23 percent have abused these drugs. 2011 Montana Youth Risk Behavior Survey
Nearly 78 percent of kids have had conversations with their parents about the dangers of using beer and marijuana. Only 24 percent have had those conversations about prescription drugs. 2008 Partnership Attitude Tracking Survey: Teens
The rate of Neonatal abstinence syndrome (NAS) in Montana newborns increased from 0.8 per 1,000 live births in 2000 to 9.0 per 1,000 (95% confidence interval 7.3% – 10.9%) in 2013, a tenfold increase according to the Neonatal Abstinence Syndrome in Montana Newborns 2000-2013.
Sobering news: Most abusers of prescription drugs get their drugs from friends and relatives – and they get them for free. Take a look: (graphic courtesy of Montana Department of Justice)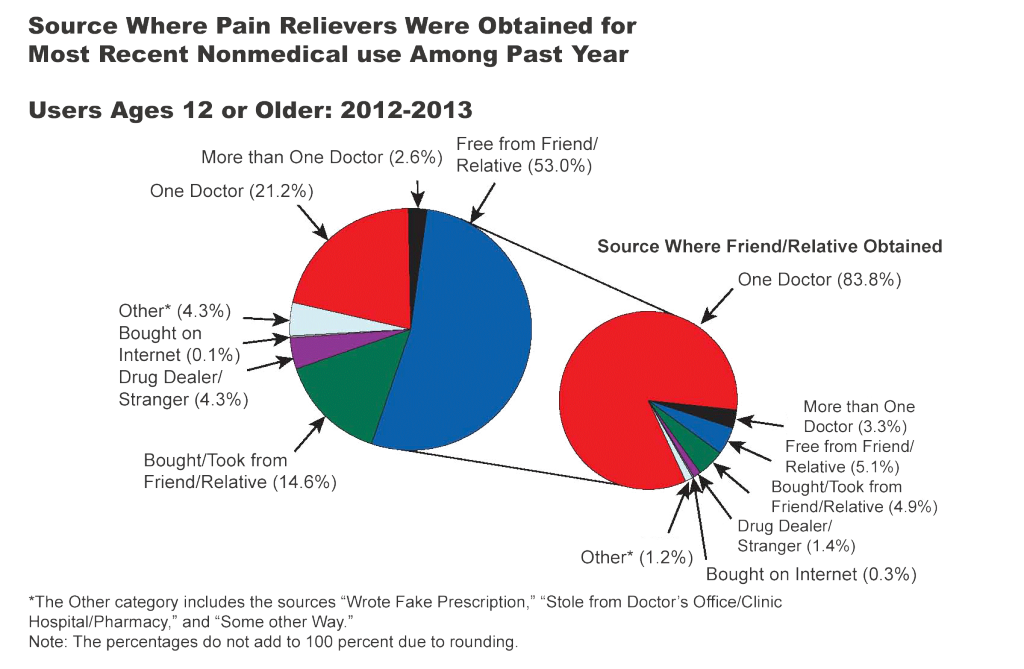 How to Get Help
If you are in need of immediate help, or experiencing thoughts of suicide, call 9-1-1. Prevention and early intervention is very important and can potentially prevent addiction or diversion problems from becoming irreversible.
There are many considerations for treatment. However, it starts with recognizing a need and then seeking professional assistance. You should always seek professional treatment – detox from prescription painkillers can be dangerous and may require medical treatment throughout the process.
The National Institute on Drug Abuse offers a publication called Seeking Drug Abuse Treatment: Know What to Ask, that can assist individuals in finding the right kind of treatment for them. Medication-Assisted Treatment (MAT) is another resource.
Montana Pain Management Clinics:
Montana Drug/Alcohol Treatment Centers:
Storage & Disposal
Join Operation Medicine Cabinet Montana in your area.
The Montana Attorney General's Office began a grant program in June 2011 to assist local law enforcement agencies in establishing permanent prescription drug drop locations. For more information about organizing a take-back event in your community, contact the Attorney General's office at (406) 444-2649 or email kkelly@mt.gov.
How To Properly Store Prescription Drugs
70% of prescription drug abusers over the age of 12 report that they are able to get prescription drugs from family and friends. Safe and secure storage is important in helping to prevent prescription drug abuse and diversion.
It is important to organize and keep track of their medications:
Where do you keep yours?
Are they in a secure place?
Are they easily accessible to a teen or someone who might abuse them?
In addition, be sure to:
Check the expiration dates and be aware of the quantities.
Safely discard expired medications, and secure the rest.
The National Council on Patient Information and Education has information on properly storing your medications.
How To Properly Dispose of Prescription Drugs
Montanans can properly dispose of unwanted or unused prescription drugs in the following ways.
Drop unwanted drugs at a permanent prescription drop location or participate in a drug take-back in your community.
Prescription drop locations across the state are available by clicking here.
Follow the disposal steps recommended by the Office of the National Drug Control Policy
Take your prescription drugs out of their original containers.
Mix drugs with an undesirable substance, such as cat litter or used coffee grounds.
Put the mixture into a disposable container with a lid, such as an empty margarine tub, or into a sealable bag.
Conceal or remove any personal information, including the prescription number, on the empty containers by covering it with black permanent marker or duct tape, or by scratching it off.
Place the sealed container with the mixture and the empty drug containers in the trash.
Patient FAQs
The physical signs of abuse or addiction can vary depending on the person and the drug being abused. For example, someone who abuses marijuana may have a chronic cough or worsening of asthmatic symptoms. Each drug has short-term and long-term physical effects. Stimulants like cocaine increase heart rate and blood pressure, whereas opioids like heroin may slow the heart rate and reduce respiration.
NIDA and other agencies track trends in drug abuse through various surveys and data collection systems. Annually, NIDA supports the collection of data on drug abuse patterns among secondary school students and young adults through the
Monitoring the Future Study (MTF)
; for more information, see
DrugFacts – High school and Youth Trends
. NIDA also supports a
Community Epidemiology Work Group
, a network of researchers who meet twice yearly to discuss drug abuse patterns in major metropolitan areas across the nation and in regional "hot spots," such as within and across border cities and areas.
For information on commonly abused drugs, see Commonly Abused Drugs, for a chart containing information on street and commercial names of abused drugs and their health consequences.
Drug addiction is a complex, and often chronic, brain disease. It is characterized by drug craving, seeking, and use that can persist even in the face of devastating life consequences. Addiction results largely from brain changes that stem from prolonged drug use—changes that involve multiple brain circuits, including those responsible for governing self-control and other behaviors. Drug addiction is treatable, often with medications (for some addictions) combined with behavioral therapies. However, relapse is common and can happen even after long periods of abstinence, underscoring the need for long-term support and care. Relapse does not signify treatment failure, but rather should prompt treatment re-engagement or modification. For more information, see
"Drugs, Brains, and Behavior – The Science of Addiction
."
There is no easy answer to this common question. If and how quickly you become addicted to a drug depends on many factors, including your biology (your genes, for example), age, gender, environment, and interactions among these factors. Vast differences characterize individual sensitivity to various drugs and to addiction vulnerability. While one person may use a drug one or many times and suffer no ill effects, another person may overdose with first use, or become addicted after a few uses. There is no way of knowing in advance how quickly you will become addicted—but there are some clues, one important one being whether you have a family history of addiction.
If a person is compulsively seeking and using a drug(s) despite negative consequences, such as loss of job, debt, family problems, or physical problems brought on by drug abuse, then he or she probably is addicted. And while people who are addicted may believe they can stop any time, most often they cannot, and will need professional help—first to determine if they in fact are addicted, and then to obtain drug abuse treatment. Support from friends and family can be critical in getting people into treatment and helping them to maintain abstinence following treatment. For information on substance abuse treatment providers, see: 
findtreatment.samhsa.gov
or call 1-800-662-HELP.
Many substances including alcohol, nicotine, and other drugs of abuse can have negative effects on the developing fetus because they are transferred to the fetus across the placenta. For example, nicotine has been connected with premature birth and low birth weight as has the use of cocaine. Heroin exposure results in dependence in the newborn, requiring treatment for withdrawal symptoms. It is often difficult to tease apart the confluence of factors that go with drug abuse during pregnancy—poor nutrition, inadequate prenatal care, stress, and psychiatric comorbidities—all of which may impact fetal development.
Drug addiction can be effectively treated with behavioral therapies and, for addiction to some drugs such as heroin, nicotine, or alcohol, medications. Treatment will vary for each person depending on the type of drug(s) being used. Multiple courses of treatment may be needed to achieve success. Research has revealed 13 basic principles that underlie effective drug addiction treatment discussed in NIDA's
Principles of Drug Addiction Treatment: A Research-Based Guide
.
For referrals to treatment programs, call
1-800-662-HELP
, or visit the Substance Abuse and Mental Health Services Administration online at
findtreatment.samhsa.gov
.
Detoxification is the process of allowing the body to rid itself of a drug while managing the symptoms of withdrawal. It is often the first step in a drug treatment program and should be followed by treatment with a behavioral-based therapy and/or a medication, if available. Detox alone with no follow-up is not treatment.
Withdrawal describes the various symptoms that occur after long-term use of a drug is reduced or stopped abruptly. Length of withdrawal and symptoms vary with the type of drug. For example, physical symptoms of heroin withdrawal may include restlessness, muscle and bone pain, insomnia, diarrhea, vomiting, and cold flashes. These physical symptoms may last for several days, but the general depression, or dysphoria (opposite of euphoria), that often accompanies heroin withdrawal may last for weeks. In many cases, withdrawal can be easily treated with medications to ease the symptoms, but treating withdrawal is not the same as treating addiction.
Drug abuse costs the United States economy over $600 billion dollars annually in increased health care costs, crime, and lost productivity, broken down as follows by type of drug:
Illicit drug abuse: $181B
Alcohol abuse: $235B
Tobacco: $193B
Beyond the raw numbers are other costs to society, including:
the spread of infectious diseases such as HIV/AIDS and hepatitis C either through sharing of drug paraphernalia or unprotected sex;
deaths due to overdose or other complications from drug use;
effects on unborn children of pregnant drug users; and
other effects such as crime, unemployment, domestic abuse, family dissolution, and homelessness.
NIDA produces a variety of educational materials for the general public and healthcare providers. NIDA's materials are available via our website, which houses the NIDA Drug PUBS Research Dissemination Center
Drugpubs.drugabuse.gov
. Multiple featured publications are listed for downloading and for ordering print copies, along with a lookup feature to access materials on particular drugs, for specific audiences, and within the array of NIDA series. The latter includes:
For teachers and students, NIDA Goes Back to School provides science-based drug abuse education materials geared to students in grades K-12 and their teachers. All of these materials are free. Students are encouraged to join Sara Bellum, a budding neuroscientist, as she explores the effects of various drugs on the brain. Students and teachers can learn through the Mind Over Matter curriculum, or they can go online to join in Sara's Quest an interactive web-based program. Educationally appropriate materials from NIDA's collaboration with Scholastic Marketing Partners, the in-school marketing division of Scholastic, the global children's publishing and media company, also are available in compilations by year from NIDA's publications catalog and online through NIDA Goes Back to School. These products include articles and posters from the Heads Up: Real News About Drugs and Your Body program through which Scholastic features NIDA science-based articles on drug abuse and addiction in its Classroom Magazines. ScholasticNews.com also maintains a Heads Up Web site at headsup.scholastic.com. Also available is Marijuana: Facts for Teens and a companion booklet, Marijuana: Facts Parents Need to Know.
NIDA is a Federal scientific research institute under the National Institutes of Health, U.S. Department of Health and Human Services. NIDA is the largest supporter of the world's research on drug abuse and addiction. NIDA-funded scientific research addresses the most fundamental and essential questions about drug abuse, including tracking emerging drug use trends, understanding how drugs work in the brain and body, developing and testing new drug treatment and prevention approaches, and disseminating findings to the general public and special populations.
Unless otherwise specified, NIDA's products are in the public domain and can be copied as a whole without seeking permission from NIDA. Also, text selections and graphics that do not have source citations listed beside, above, or below them can also be used without permission. If the person or organization using such material wishes to cite the document or text, standard citation formats relating to publications and Web sites should be followed.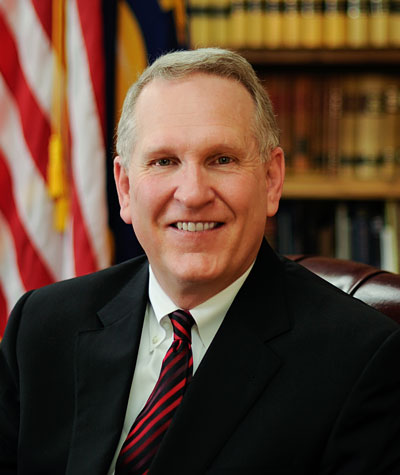 "Prescription drug addiction affects people from every walk of life in our state. The good news is, every Montanan can take simple steps to fight this issue."
Recent Happenings
The Centers for Disease Control and Prevention (CDC) has released proposed guidelines for prescribing opioids for chronic pain. The Montana Medical Association is gathering comments on the guidelines from physician members to potentially submit feedback [...]
Prescription drug abuse and diversion is an epidemic – it affects everyone, and the statistics are staggering. Not enough Montanans are aware of the number of lives lost, making prescription painkillers 15 times more deadly [...]